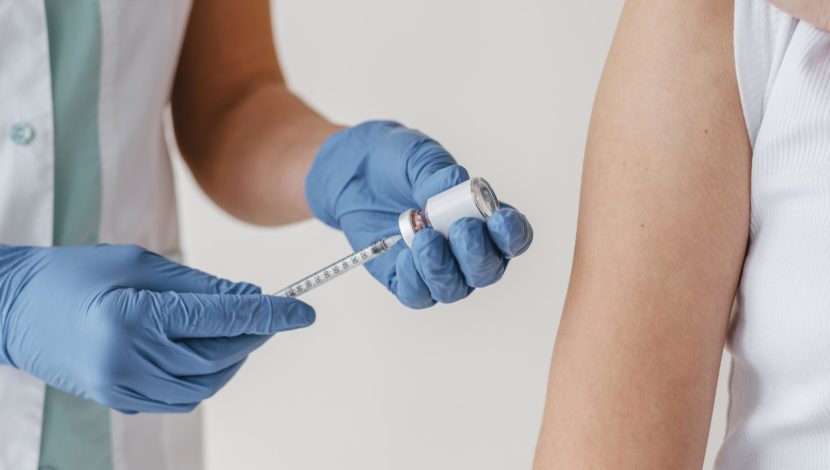 In addition to the ongoing COVID-19 pandemic, the coming months also mark the peak season of influenza, commonly known as "the flu".
What is Influenza (Flu)?
Flu is a contagious respiratory illness caused by influenza viruses that infect the nose, throat, and sometimes the lungs. It can cause mild to severe illness, and at times can lead to death. The best way to prevent flu is by getting a flu vaccine each year.
Flu Symptoms
Influenza (flu) can cause mild to severe illness, and at times can lead to death. Flu is different from a cold. Flu usually comes on suddenly. People who have flu often feel some or all of these symptoms:
fever or feeling feverish/chills
cough
sore throat
runny or stuffy nose
muscle or body aches
headaches
fatigue (tiredness)
some people may have vomiting and diarrhea, though this is more common in children than adults.
According to the Center for Disease Control and Prevention (CDC), the time from when a person is exposed and infected with flu to when symptoms begin is about 2 days but can range from about 1 to 4 days.
The symptoms can be similar to dengue fever.
Preventing Seasonal Flu
According to CDC (Center for Disease Control and Prevention), the first step in preventing flu is to get a flu vaccine each year. The flu vaccine has been shown to reduce flu-related illnesses and the risk of serious flu complications that can result in hospitalization or even death. CDC also recommends everyday preventive actions (like staying away from people who are sick, covering coughs and sneezes, and frequent handwashing) to help slow the spread of germs that cause respiratory (nose, throat, and lungs) illnesses, like flu.
Everyday preventive actions to stop the spread of germs.
Take everyday preventive actions that are recommended to reduce the spread of the flu.

Avoid close contact with people who are sick.
If you are sick, limit contact with others as much as possible to keep from infecting them.

Cover coughs and sneezes.

Cover your nose and mouth with a tissue when you cough or sneeze. Throw the tissue in the trash after you use it.

Wash your hands often with soap and water. If soap and water are not available, use an alcohol-based hand rub.
Avoid touching your eyes, nose, and mouth. Germs spread this way.
Clean and disinfect surfaces and objects that may be contaminated with viruses that cause flu.
CDC recommends that people stay home for at least 24 hours after their fever is gone except to get medical care or other necessities. Fever should be gone without the need to use a fever-reducing medicine.
People at High Risk from Flu
Anyone can get flu, and serious problems related to flu can happen at any age, but some people are at high risk of developing serious flu-related complications if they get sick. This includes people 65 years and older, people of any age with certain chronic medical conditions (such as asthma, diabetes, or heart disease), pregnant women, and children younger than 5 years.
The Flu vaccine
The Center for Disease Control and Prevention (CDC) conducts studies each year to determine how well influenza (flu) vaccines protect against flu. While vaccine effectiveness can vary, recent studies show that flu vaccination reduces the risk of flu illness by between 40% and 60% among the overall population during seasons when most circulating flu viruses are well-matched to those used to make flu vaccines.
The most effective way to prevent seasonal flu is to get a booster shot every year or at the beginning of the winter outbreak season.
What are the benefits of flu vaccination?
There are many reasons to get the influenza (flu) vaccine each year. Flu vaccination is the best way to protect yourself and your loved ones against flu and its potentially serious complications. Below is a summary of the benefits of flu vaccination according to the Center for Disease Control and Prevention (CDC).
Flu vaccination can keep you from getting sick with the flu;
Flu vaccination has been shown in several studies to reduce the severity of illness in people who get vaccinated but still get sick.
Flu vaccination can reduce the risk of flu-associated hospitalization.
Flu vaccination is an important preventive tool for people with certain chronic health conditions.
Flu vaccination helps protect pregnant people during and after pregnancy.
Getting vaccinated yourself may also protect people around you, including those who are more vulnerable to serious flu illness, like babies and young children, older people, and people with certain chronic health conditions.
Who should get vaccinated?
The World Health Organization (WHO) recommends that the following risk groups should be prioritized for seasonal flu vaccination while the COVID-19 pandemic remains complicated:
Healthcare workers: recommended as one of the highest priority groups to receive flu vaccines during the COVID-19 pandemic to reduce the spread of influenza from healthcare workers to susceptible patients and reduce the burden on healthcare systems.
Pregnant women
People over 65 years old.
People with pre-existing medical conditions such as diabetes, high blood pressure, HIV/AIDS, asthma, and chronic heart or lung disease. This group should be given priority to get the flu shot to protect them against flu and to reduce the risk of infection with SARS-CoV-2 during their influenza treatment.
Children, especially children from six months to two years old.
What vaccine is available at CMI?
Currently, CMI offers Influvac Tetra 0.5ml.
At CMI, we provide state-of-the-art vaccination services in accordance with Health authorities' regulations. CMI vaccination team is fully qualified, trained, and certified to provide vaccination services. All vaccinated patients are monitored for 30 minutes after vaccination, and their condition is re-evaluated before they leave the clinic. We use high-quality vaccines with clear provenance. Our vaccines are stored correctly from purchase through to transportation and use.
Get your appointment now:
Send us an email at info@cmi-vietnam.com;
Submit your information via the contact form and we'll contact you as soon as possible;
Or, call 028 3827 2366 and we'll walk you through your options
Sources: