The Heart Institute of Ho Chi Minh City
Today, the Heart Institute operates on and saves more than 1,200 children per year in Ho Chi Minh City.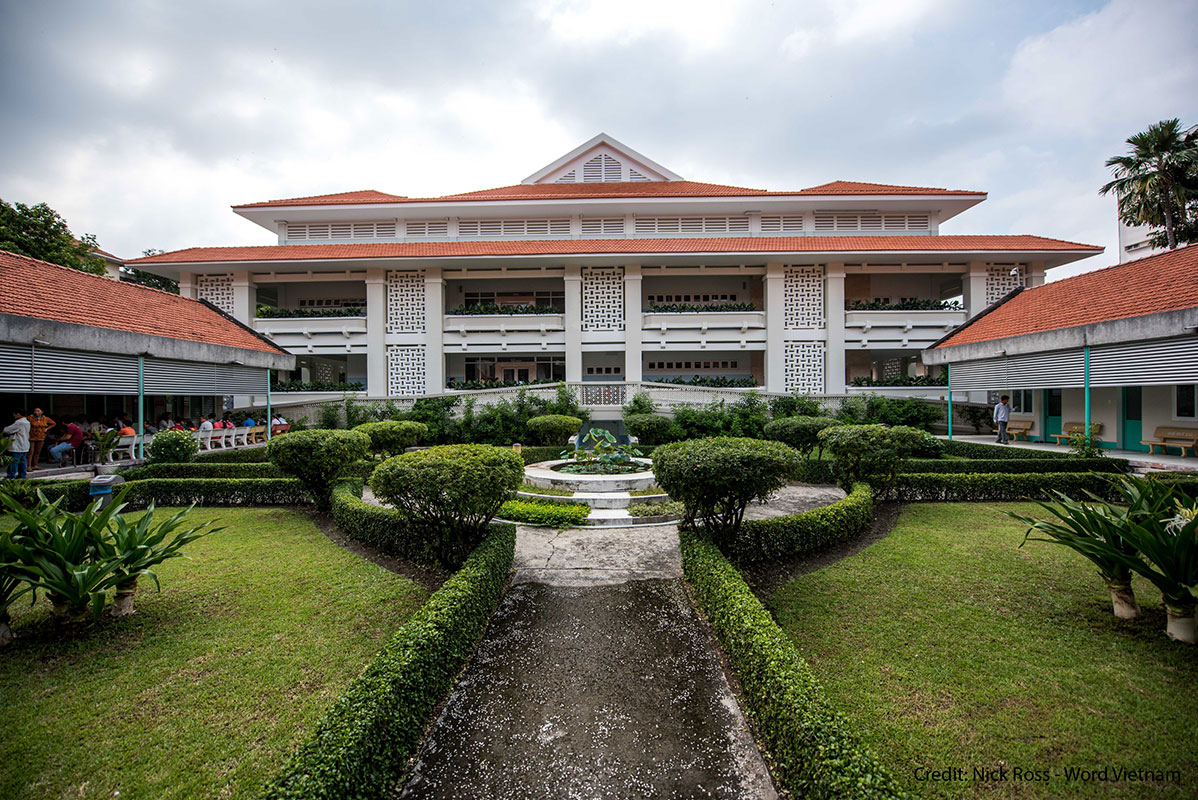 Together, we are transforming lives and futures.

– People at heart.
The Heart of Institute of Ho Chi Minh City:
The Heart Institute of Ho Chi Minh City is a leading hospital specialized in providing a comprehensive approach to advanced cardiac diagnosis, ranging from prevention and early detection to diagnosis, treatment and rehabilitation.
The Heart Institute was created in 1992 by Pr. Alain Carpentier and Dr. Duong Quang Trung who was at the time director of the Health Department of Ho Chi Minh City. The mission of the Heart Institute is to offer high-quality care to Vietnamese patients and foreigners suffering from heart diseases, especially children.
A symbol of a unique cooperation
The city of Ho Chi Minh City took responsibility for the construction of the Heart Institute. Fondation Alain Carpentier has funded the equipment, and in collaboration with Broussais hospital surgical team took care of the training of the medical, administrative and technical staff. The Heart Institute of Ho Chi Minh City has complete autonomy and the freedom to hire and administer the staff of its choice. The Heart Institute of Ho Chi Minh City is responsible for its financial management.
A unique mission and vision:
Help the most disadvantaged people to have access to the best care
Treat and save Vietnamese children with heart disease
Teach modern techniques of cardiology and cardiac surgery to young doctors in Southeast Asia and Africa
Be a leading medical organization solicitous about its budget management.

Funding of the operations of indigent children
A special fund has been created to help families to fund the life-saving surgery they need. This special fund is powered by Centre Médical International (CMI), NGOs, personal donations, and since 2011, by the generous contributions of the supporters during our annual Fondation Alain Carpentier charity gala.
At least 25% of the surgeries performed at The Heart Institute of Ho Chi Minh City are performed on underprivileged children.
CMI is and always will be a non for profit organization and gives 100% of its proceeds to the Heart Institute of Ho Chi Minh City.
Each year in Vietnam 8,000 children need a lifesaving heart surgery. They need you… Each donation helps to make our vision and mission a reality.